Site Administrator
Posts: 27663
Joined: Fri Mar 25, 2005 2:25 am
Location: The Great State of Utah
Contact: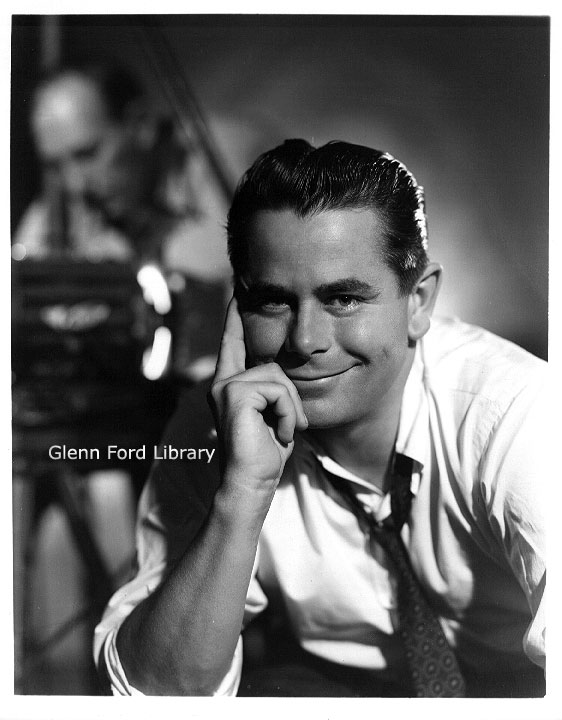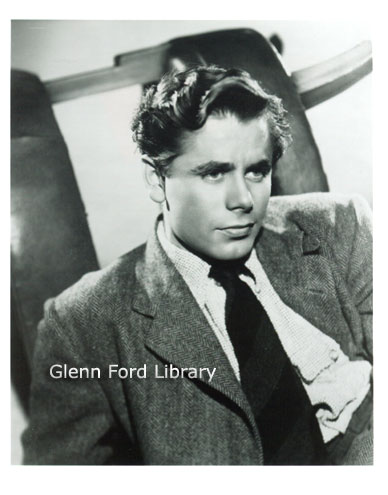 One of my favorite actors. I'm grateful for all the opportunities I had to watch him act.
Corlyss
Contessa d'EM, a carbon-based life form

---
Dittersdorf Specialist & CMG NY Host
Posts: 20996
Joined: Fri Mar 25, 2005 6:54 am
Location: Paradise on Earth, New York, NY
From The New York Times:

August 31, 2006
Glenn Ford, Leading Man, Is Dead at 90
By RICHARD SEVERO

Glenn Ford, a laconic, soft-spoken actor with an easy smile who played leading roles in many westerns, melodramas and romantic films from the early 1940's through the 60's, died yesterday at his Beverly Hills home. He was 90.

Paramedics called to the home shortly before 4 p.m. found him dead, the police said. He had a series of strokes in the 1990's.

Mr. Ford, who had the ability to project a taut resoluteness and inner strength along with affability and gentleness, was never nominated for an Academy Award, although his acting consistently won high praise from critics and he was popular with moviegoers, especially in the 1950's. He started his Hollywood career seemingly typecast as an actor who could do well in undistinguished films. He thus made a series of B movies for Columbia Pictures, playing featured roles in such forgettable productions as "Men Without Souls" and "My Son Is Guilty" (both in 1940) and "Texas," "The Desperadoes" and "Destroyer" (all in 1941).

He usually attracted critical praise even when the script, production and direction were anything but praiseworthy.

In 1946, for example, Mr. Ford starred opposite Rita Hayworth in "Gilda," a film remembered mostly as the vehicle for her provocative rendition of a song called "Put the Blame on Mame." Writing in The New York Times, Bosley Crowther praised Mr. Ford's "stamina and poise in a thankless role."

But in the 1950's, Mr. Ford began to make pictures that were more consistent with the ability he had repeatedly demonstrated. In 1955, he played an idealistic, beleaguered teacher in "Blackboard Jungle," which was about daily life in what was then regarded as a tough New York City high school.

Gwyllyn Samuel Newton Ford was born on May 1, 1916, in Quebec, the only child of Newton and Hannah Ford.

The Fords were of Welsh descent, and the family was quite prominent in Canada. Newton Ford was a railroad executive and mill owner who was a nephew of Sir John MacDonald, a former prime minister of Canada. Another Ford ancestor was Martin Van Buren, the eighth president of the United States.

Gwyllyn, soon to be called Glenn, was initially reared in Portneuf, Quebec, an hour away from the city. When he was 7, his family moved to Santa Monica, Calif., where Mr. Ford was educated.

After high school, he began working with small theater groups. He later said his father had no objection to his son's growing interest in acting but told him: "It's all right for you to try to act, if you learn something else first. Be able to take a car apart and put it together. Be able to build a house, every bit of it. Then you'll always have something."

Mr. Ford listened to his father, and in the 1950's, when he was one of the nation's most popular actors, he regularly worked on plumbing, wiring and air-conditioning at home.

At various times, Mr. Ford worked as a roofer and installer of plate-glass windows. At one point, he worked in a Santa Monica bar, keeping it clean for $5 a week. Years later, as a successful actor, he would drive by that bar almost every day. "There are too many places here that won't let me forget how I started," he told an interviewer.

In the late 1930's, he managed to get a screen test at 20th Century Fox but did not do well. A year later, he was given a second chance and won his first movie part in 1939 in "Heaven With a Barbed-Wire Fence."

The B movies followed until 1943, when he joined the Marine Corps. While in the Marines, he met Eleanor Powell, the dancer, at a war-bond cavalcade. They were married in 1943. The marriage would end in divorce 16 years later. They had a son, Peter, who survives.

In 1966, Mr. Ford married Kathryn Hays, an actress, but the marriage ended quickly. In 1977, he wed Cynthia Hayward, a model 32 years his junior. They divorced in 1984. In 1993, he married his nurse, Jeanne Baus, but they soon divorced.

There were times when it seemed that Mr. Ford was averse to vacations. In 1960 and '61, he worked on four overlapping projects: "The Four Horsemen of the Apocalypse," "Cry for Happy," "Cimarron" and "Pocketful of Miracles." When someone noted in Mr. Ford's heyday that in five years, he had taken off an average of only 21 days between films, Mr. Ford replied, "I like to work."

By 1965, all that work enabled him to build a $400,000 home in Beverly Hills, featuring an atrium over which hung a 900-pound artificial sun that could be switched on whenever Mr. Ford wanted to feel drenched with light. The house also held a replica of an English pub, to which he retreated when he preferred the shadows.

Mr. Ford's better known films included "Don't Go Near the Water" (1957), "Imitation General" (1958), "The Teahouse of the August Moon" (1956), "The Courtship of Eddie's Father" (1963), "The Rounders" (1965) and "Heaven With a Gun" (1969).

As Mr. Ford grew older, he was cast less frequently, but in "Superman" (1978) he appeared in a brief scene as Superman's Earth father. He also did some television work, including the series "Cade's County" (1971); "Punch and Jody" (1974); "The Disappearance of Flight 412" (1975); "Evening in Byzantium" (1978) and "The Sacketts"(1979). In 1978, he was the host of a television series, "When Havoc Struck."
"Only two things are infinite, the universe and human stupidity, and I'm not sure about the former."
Albert Einstein
---
Dittersdorf Specialist & CMG NY Host
Posts: 20996
Joined: Fri Mar 25, 2005 6:54 am
Location: Paradise on Earth, New York, NY
Glenn Ford: No Oscar, but a great career
8/31/2006, 3:55 p.m. ET
By BOB THOMAS
The Associated Press

LOS ANGELES (AP) — He never won an Academy Award_ in fact, was never nominated. He never earned the big bucks that stars of his stature enjoyed. Yet for 52 years Glenn Ford remained an in-demand actor whose name above the title could attract movie ticket buyers.

Ford might be called the anti-star. He didn't hang out with the gang in Hollywood watering holes. He never quarreled with directors or studio bosses. His name was never sullied by scandal. He did his acting job and went on to the next one.

His career contrasts with that of his (mostly) friendly rival at Columbia studio, William Holden. Both were put under contract by Columbia boss Harry Cohn in the pre-World War II period. Both vied for good roles; sometimes they co-starred, as in "Texas" and "The Man from Colorado."

Ford was sedate, Holden was a roisterer, noted for his boozing and romancing. Holden once bragged to Robert Mitchum that he had bedded every one of his leading ladies.

Holden won the Oscar for "Stalag 17" and was nominated for "Sunset Boulevard" and "Network." He died in 1981 during a drinking binge. He was 63.

Ford continued working until 1991 when a series of strokes overcame him. The 90-year-old actor was found dead Wednesday in his Beverly Hills home, police said. An exact cause of death was not given.

During interviews with this reporter over the years, Ford revealed some of the factors contributing to his longevity.

"I've always been of the opinion that motion pictures talk too much," he remarked in 1975. "When I see films that go on and on with dialogue, I feel like telling the actors, `Be quiet! Let the audience do some of the work.' It's much better to let the audience use their imaginations than to tell them everything.

"Some actors count their lines as soon as they receive a script. I'm the opposite. I try to see how many lines I can whittle down. I tell producers and directors, `Do me a favor and trim that speech to four lines.' You can say just as much in four as you can in fourteen."

Ford was no pushover for overbearing directors. He earned battle stars for some of his encounters. But in 1965 he commented: "I think film actors are better off when they are in the hands of a strong director. When actors are coddled and catered to, they lose their sense of reality. If you don't applaud after their close-ups, they go into their dressing rooms and pout."

In the era after WWII, stars like Kirk Douglas and John Wayne formed their own production companies. Ford tried it once, with "Pocketful of Miracles," Frank Capra's remake of his hit "Lady for a Day."

That was Ford's last venture as producer. He reasoned, "Hell, no actor is going to tell Frank Capra how to make a picture. He had forgotten more about movie making than most directors know."

Ford said in 1960 that he preferred to work for major studios than independent producers. His reasoning:

"I've had a lot of (independent) guys tell me I can earn a million dollars by making a picture with them. Of course, the script isn't quite right, and they won't spend much money on the picture. It doesn't take many of those before you're washed up."

That was no worry for Glenn Ford. He was a star to the end of his career.
"Only two things are infinite, the universe and human stupidity, and I'm not sure about the former."
Albert Einstein
---
Turner Classic Movies will change its regularly scheduled programming on Sunday, September 10th to honor the late Glenn Ford (1916-2006) with a 6-film tribute.
Here is the new lineup for 9/10:
8:00 AM The Desperadoes ('43)
9:30 AM A Stolen Life ('46)
11:30 AM Gilda ('46)
1:30 PM Blackboard Jungle ('55)
3:30 PM The Teahouse of the August Moon ('56)
5:45 PM The Courtship of Eddie's Father ('63)
GLENN FORD PROFILE
He was called the fastest gun in Hollywood. Able to draw his weapon in .04 seconds - faster than John Wayne or Gunsmoke's James Arness. Thanks in part to these quick hands he was often cast in Westerns - including the appropriately titled The Fastest Gun Alive (1956). But his career highlights also include a number of memorable comedies, crime dramas and war movies. It was the appeal of his screen persona - an average Joe - that made him a popular star. He never won an Oscar®, but in 1958, Glenn Ford was voted Hollywood's number one box office attraction.
Ford was born Gwyllyn Samuel Newton Ford on May 1, 1916 in Sainte-Christine, Quebec, Canada. His father was a railroad executive who moved the family to California when Glenn was eight years old. Ford got his first taste of acting at age four in community theater and continued to perform in high school productions. He joined a West Coast touring company in 1934 - as a stage manager. In a short time, Ford was performing with the company on stage in a production of The Children's Hour. He was soon discovered by a talent scout for 20th Century Fox and made his screen debut in Heaven with a Barbed Wire Fence (1939). In his first film, Ford played a department store clerk, who must marry a girl to save her from deportation. The film was based on a story by Dalton Trumbo and directed by silent star Ricardo Cortez.
Fox may have seen him first, but Ford signed with Columbia Pictures. He spent the next few years in small roles at the studio before WWII interrupted. Ford served in France during the war, building safe houses with the Marines. He would retain his officer's commission at war's end, later making goodwill visits to Korea and Vietnam. And in 1992, he would be awarded the French Legion of Honor Medal by the country of France for his WWII service. During the war years, Ford also got married - to dance star Eleanor Powell. This would be the first of four marriages.
After the war Ford tried to resume his Hollywood career but it was a slow process. It was through Bette Davis that he got his big postwar break. She approved him as her romantic lead in A Stolen Life (1946). But it was another film that same year that would change Ford's career forever. The classic film noir Gilda (1946) costarring Rita Hayworth pushed Glenn Ford into the spotlight. The Hayworth-Ford pairing proved so popular that they were reteamed in three more pictures including: The Loves of Carmen (1948), Affair in Trinidad (1952) and The Money Trap (1965).
Over half of Ford's films were Westerns. The genre kept him especially busy during the 1950s and '60s. There were The Violent Men (1955) with Barbara Stanwyck and Edward G. Robinson and 3:10 to Yuma (1957) with Ford as an outlaw being escorted to jail by Van Heflin. Ford played a sheep farmer in The Sheepman (1958) with Shirley MacLaine and a tough trail boss in Cowboy (1958), teaching Jack Lemmon about life on the range. Cimarron (1960) was a Western drama about the Oklahoma land rush based on a novel by Edna Ferber. And in The Last Challenge (1967), Ford faced a duel with a young gunslinger to defend his reputation as a gunslinger.
Ford also excelled in contemporary dramatic roles. One of his best-remembered films, Blackboard Jungle (1955), pitted him as a teacher up against a group of inner city delinquents. In Ransom! (1956), Ford played the father of a kidnapped boy, who turns the tables on the kidnappers when he decides to offer the ransom money as a reward for their capture (Ford's role would be reprised by Mel Gibson in the 1996 remake). Terror on a Train (1953) saw Ford in action as a bomb expert who must race the clock to defuse a bomb on a train.
Ford's military training often came in handy on the big screen. He played Captain Fisby in the Marlon Brando film The Teahouse of the August Moon (1956), which is set in post V-J Day Okinawa. And in Torpedo Run (1958) he played an obsessed submarine commander determined to sink the Japanese ship that had killed his wife and daughter. Much later, Ford joined Charlton Heston, Henry Fonda and Robert Mitchum in the Pacific war epic Midway (1976).
Ford also made his share of comedies. In The Courtship of Eddie's Father (1963) Ford played a widowed father, whose son (a young Ron Howard) is determined to find him a new bride. He also made several military comedies -- such as Don't Go Near the Water (1957), Imitation General (1958) and Advance to the Rear (1964). And Ford co-starred with Debbie Reynolds in two films: the comedy-thriller The Gazebo and the light sex comedy It Started with a Kiss (both 1959).
In his later career, Ford turned his attention to television. He appeared in numerous TV movies and starred in two short-lived series in the 1970s -- Cade's County where he played a sheriff in the modern west and The Family Holvak which cast Ford as a Reverend and family man in 1930s Tennessee. He also made time for the occasional feature appearance - including his turn as Pa Kent in Superman: The Movie (1978). A cameo in Tombstone (1993) was to serve as Ford's Hollywood swansong but failing health forced him to withdraw from the project. In his retirement, Ford lives in Beverly Hills.
While he never won an Oscar®, Glenn Ford was a three-time Golden Globe nominee - the first two nominations were for his roles in The Teahouse of the August Moon and Don't Go Near the Water. His third nomination came in 1961 for Pocketful of Miracles, Frank Capra's remake of his own Lady for a Day (1933). This time Ford won the Golden Globe for Best Actor Musical or Comedy. Not bad for a guy who by his own account wasn't an actor. As Ford put it, "people laugh when I say I'm not an actor, but I'm not. I play myself."
by Stephanie Thames
http://www.tcm.com/movienews/index/?cid=144520
"The law isn't justice. It's a very imperfect mechanism. If you press exactly the right buttons and are also lucky, justice may show up in the answer. A mechanism is all the law was ever intended to be." - Raymond Chandler
---
Site Administrator
Posts: 27663
Joined: Fri Mar 25, 2005 2:25 am
Location: The Great State of Utah
Contact:
Ralph wrote:The B movies followed until 1943, when he joined the Marine Corps. While in the Marines, he met Eleanor Powell, the dancer, at a war-bond cavalcade. They were married in 1943.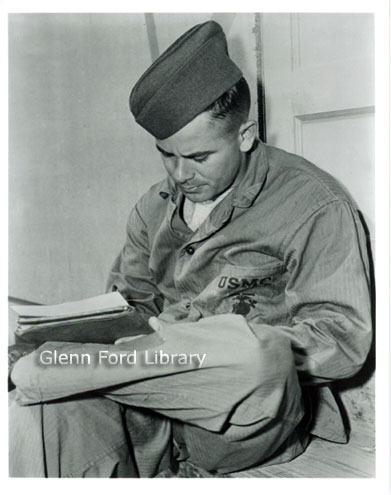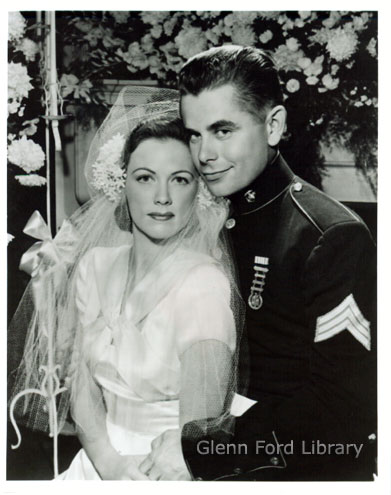 Marine Glenn Ford
Thanks for the heads up, Haydn.
Corlyss
Contessa d'EM, a carbon-based life form

---
Who is online
Users browsing this forum: No registered users and 16 guests